Choosing a chain can be difficult. With so much choice available out there, it can be hard to know where to begin, particularly if you are selecting something as a gift. There are, however, a few simple rules which can make the task easier. By breaking the process down into a few simple steps you will quickly narrow the choice which will help tremendously.
Here are a few questions to consider when choosing a chain:
How big/heavy is the pendant you intend to put on the chain?
It stands to reason that a large pendant needs a chain strong enough to carry it without the risk of breaking; in other words, one, needs to balance the other. The clasp also needs to be suitable to withstand the pressure placed upon it. A wider and heavier gauge of chain will be able to carry more weight and usually has a more substantial clasp such as a lobster or trigger to cope with this. On the flipside, a small and light pendant will sit perfectly well on a very fine chain with very little weight to it. These smaller chains normally have a lightweight bolt ring clasp, which is perfectly adequate for the job. Aesthetically speaking, you also need to check that the pendant looks balanced and in proportion to the chain. So, for example: you would not put a 2mm snake chain on a 6mm round pendant as this would look completely out of proportion. Instead you should ideally opt for something much finer, such as our 0.9mm Mini Snake chain which would be much more suitable.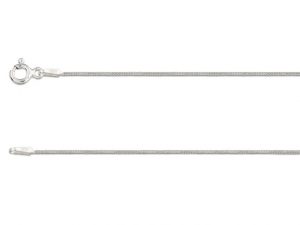 VVO M09H – Sterling Silver 0.9mm Mini Snake Chain 18″/45cm Unhallmarked
How large is the bail or hole which the chain needs to be threaded through?
A chain needs to move freely through the bail or hole by which it is attached, so this is a simple, practical check that needs to be made before buying a chain. Either physically try it out or look for details of the size of end caps or jump rings in the description. If in any doubt, ask.
How long should the chain be?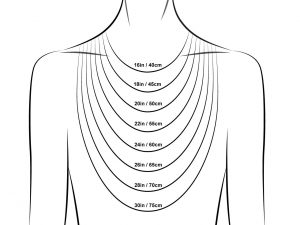 The question of chain length really comes down to the preference of the wearer, however there are some practical elements to consider too. Generally speaking, larger pendants can be worn on very long chains as well as very short ones providing, they are strong enough. In contrast lighter weight pendants are more suited to shorter length chains as they will simply get lost on a longer design and are liable to get caught in clothing and pulled which could lead to breakages.
Choosing a chain as a gift can be particularly difficult and is easy to get wrong. My advice would be to consider both the age and the frame of the recipient. Whilst you can't generalise, I would suggest slightly shorter lengths for younger people for example 16" – 18" for regular to small pendants (Our Sterling Silver 0.9mm Hammered Trace Extendable 16-18″/40-45cm Unhallmarked –VVT 020H would be perfect as it gives you the option of two lengths). And slightly longer lengths for older customers or loved ones particularly those with a larger frame for example 18" – 20" or even 22". Again, our extendable range is the perfect solution for this dilemma as it gives the customer two options in one chain.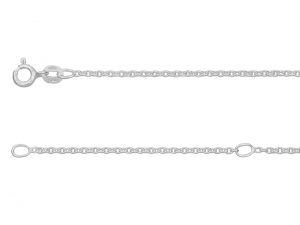 VVB 040I – Sterling Silver 1.6mm Extendable Belcher Chain 18-20″/45-50cm Unhallmarked
The longest chain lengths (24" – 30") normally carry larger pendants and are a universal choice for both young and old. Droplet designs work particularly well, as do pieces with lots of movement such tassels and charms which will constantly move as the wearer walks around. (Diamond cut chains are a popular choice for longer chains for this very reason).
What style should I choose?
The question of style is perhaps the most difficult as we are all individuals with different style preferences. However, there are some key points to keep in mind particularly when choosing for others.
Trace, Belcher, Curb and Snake chains are our most popular styles of chain, and they are popular for a reason. Most people recognise and like these styles and they go with a wide range of pendant styles. If you are unsure, pick one of these and you won't go far wrong.
The gauge of our most popular chains ranges from 0.9mm – 1.7mm so unless you have a particularly large pendant to accommodate, pick something within this size range. I would suggest 0.9mm – 1mm as a good starting point for most light weight pendants.
If your pendant is modern and contemporary, a simple chain such as a snake or curb is likely to compliment it better as it will provide a clean, unfussy silhouette. More elaborate or traditional pendant designs might be better suited to a trace or belcher chain with a more visible link.
Finally, if you want to elevate the chain, choose a style with a diamond cut or hammered finish to add some extra sparkle.
See our selection of chains to inspire your creation
Written by Joanna Varney
Joanna has worked in and around the jewellery industry for well over 20 years. She has designed and created her own pieces as a designer maker, as well as working in jewellery retail on a much larger scale, producing designs and NPD for some of the UK's largest high street retailers
The post Choosing a Chain for your Pendant appeared first on The Bench.