Jewellery maker Anna, aka A Little Trinket specialises in lampworking. Although trained in other fields, it was a passion and love of the artform that led her to this particular type of jewellery making. View some of her work, read about where she gets her inspiration from and more, in this month's Designer of the Month interview.
Tell us a bit about yourself, detailing your background/study/training in the jewellery making industry
I am a bit of an imposter when you look at my training. I have a degree but it's in Molecular & Cellular Biology. I have work experience but it was in publishing. I have retail experience but that was in textile craft. I have always made things, it's something my parents always encouraged in both myself and my sister (she does have a bona fide Art degree), and somehow the stars aligned – I found myself taking a jewellery making evening class to keep a friend company and organising a glass beadmaking taster session for the ladies in my family. Once I'd melted glass I knew that was what I wanted to do and the jewellery making class helped give me the skills to team the glass with silver.
Tell us a bit more about your work – are there any particular materials or techniques that you favour?
I describe myself as a lampworker rather than a jeweller as the vast majority of my work includes lampwork glass. Lampworking is the process of melting rods of coloured glass in a gas flame or 'lamp'. All the shaping and decorating is done in the flame, whilst the glass is hot. All my glass is annealed by cooling in a controlled manner in a kiln. Once cool, cleaned and checked I finish my jewellery with sterling silver. The silver work I do is deliberately simple as I use it to showcase the glass. However, I do push my luck sometimes, soldering with glass in place is something I do regularly and carefully!
How would you best describe your design style?
My designs tend to be simple and clean. I want to showcase the glass and its inherent beauty. It was the colours of glass that first attracted me to it, cobalt or Bristol blue in particular. Whilst you can't mix glass colours like paint you can use different combinations to great effect. I love experimenting with new colours and reactions, often a happy accident will lead me down an unexpected path.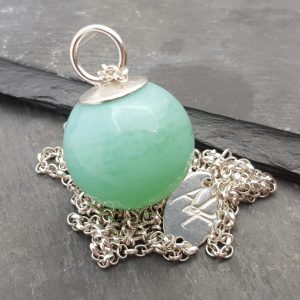 As a jewellery maker, where do you like to get your inspiration from for your pieces?
The majority of inspiration comes from the material itself. I like to work with the glass rather than fight against it. The shapes, finish and silver work are all intended to showcase the beauty of the glass.  I often start a new collection by pulling together rods of coloured glass, arranging and rearranging them on my bench for a while before I start melting anything. Once I've made a few beads I'll repeat the process with them and silver to see how they could work together. There will be some back and forth as the glass forms are refined and reworked to fit the silver and vice versa. Eventually the start of a collection will emerge, it could be just one item at this stage, but then it tends to snowball. I have to be disciplined and not make everything I can but keep to a coherent collection around the theme that has developed.
Do you have a piece that you have made which you favour or are particularly proud of?
I am particularly fond of my Emily Earrings, they are clean and simple in design. I wear them as everyday earrings but they are also elegant and compliment an evening dress. A lot of my jewellery is named after someone and the Emily range was originally created for a little girl called Emily who was to be a bridesmaid. She was going to be the smallest of the bridal party and the only one without pierced ears so the Emily Earrings came about.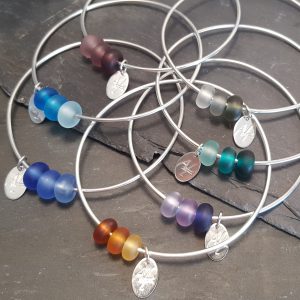 What is the one item in your jewellery making workshop that you couldn't live without?
My lampwork torch is vital, without it no glass would get melted. Theoretically I could work with just that and perhaps a good pair of tweezers but I am a bit of a tool junkie. I like to have the 'thing that does that particular job'. My workshop mates may laugh at me for often rummaging in a drawer and coming out with an obscure bit of kit but I swear my tube cutting clamp has saved me a fortune in broken saw blades…
What upcoming trends do you see being popular soon?
I think we are all becoming more conscious of what materials we buy, how they are packaged and how/when we will dispose of them. Jewellery is a luxury item in that we don't need it for our survival, so it can be hard to justify the environmental cost of short lived items. I think we will see an increase in responsibly made jewellery, packaged in a sustainable way and, possibly most important, jewellery made to last.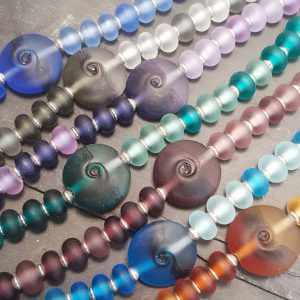 What is the most valuable lesson you have learnt from your time in the jewellery making industry?
You can't rush learning. You will eventually find yourself doing things you thought were only for the 'experts' but it takes time to get there. Do what you enjoy and you'll build up the experience without really noticing but don't rush it.
Do you have any particular advice that you would give to up and coming jewellery designers, or someone interested in getting into jewellery making?
Have fun and take your time to develop your style. You don't need to be producing commercially viable items straight out of the gate (if at all). Make what you enjoy making and wearing. See where things lead you, you might end up somewhere unexpected…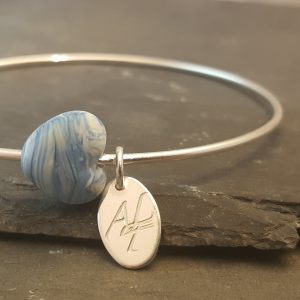 Finally, time for a bit of fun in our quick-fire round!
Tell us your favourite…
Colour – Cobalt Blue glass (aka Bristol Blue), it's why I wanted to learn to melt glass in the first place
Biscuit – I am still mourning the demise of the Abbey Crunch but, in its absence, you can't beat a Digestive, with or without chocolate but that must be dark chocolate
Drink – Tea, always tea!
Place – Yorkshire, I only lived there for a year but I miss the landscape and its varied moods.
Animal – If I don't say my cat Suki there will be a major sulk (don't tell her but I'm quite fond of red pandas too)
Gemstone – Am I allowed to say glass? If not I also love the varied colours of tourmaline.
Food – Anything with cheese, I could never give up dairy as I couldn't cut out cheese
Sport – I am hardly 'sporty' but I'm not a bad shot with a bow and arrow so Archery
Film – Still Dirty Dancing, even after 30 odd years its still the best.
City – I'm not fond of big, crowded cities so Chichester where I work is perfect, it's got a smaller, friendly feel to it.
Many thanks to Anna aka A Little Trinket for being our Designer of the Month of November and for sharing this insight into her life as a jewellery maker
Want to discover the work of other jewellery makers? Take a look at our interviews with even more Designers of the Month to learn more about their designs, inspiration and more.
The post Designer of the Month: A Little Trinket appeared first on The Bench.