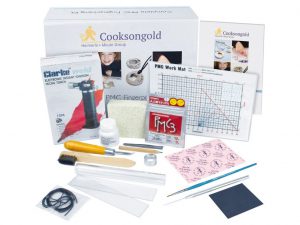 Kits can be a fun and cost-effective way to try something new without a huge outlay, but only if you utilise every component included.
Here we take a look at a kit in depth and give you some tips on how to get the very most out of each and every item.
Precious Metal Clay PMC3 Silver Clay Fingerprint Jewellery Kit (Product Code 855 053)
Contents includes:
PMC3 9g – great multi-purpose clay which is strong and has a long working time before it dries.
2 spacers – place either side of your clay when rolling out to ensure even depth.
Roller – use like a rolling pin to roll out clay evenly. (Use with small amount of olive oil or badger balm to prevent sticking).
Paintbrush – use with water to make slip (clay + water) to join pieces together or smooth shapes. Can also be used with water to rehydrate dried out clay. (Can also be used to paint on liver of sulphur).
Work mat – allows you to work precisely which will help with calculating shrinkage and also firing methods and drying times.
Straw – great for piercing out holes in rolled out clay.
Circle cutter – ideal for cutting out perfect circle shapes but remember to use olive oil or badger balm to prevent sticking.
Sandpaper – use once your clay has dried, before firing, to refine your design. Can also be used after firing if required.
Pencil – general marking out and designing.
Needle tool – ideal for making holes, creating texture and general moulding and shaping.
Torch – use for firing metal clay but also perfect for small scale soldering jobs.
Torch block – place dried metal clay on this block when firing or soldering.
Metal burnisher – use on fired clay to rub the metal to a high shine.
Silver polishing cloth – use to gently buff metal to a shiny finish and also to clean oxidised metal by way of general maintenance.
Stainless steel brush – use to gently buff fired clay to a dull shine.
Liver of sulphur – a chemical solution which can be painted onto metal to create a dark patina finish. Works particularly well on copper as well as silver.
Tweezers – use to pick up any hot or tiny objects.
2 jump rings – use to thread through holes created in your pieces to make pendants or to link pieces together.
Necklace cord – simply thread on finished pieces and knot to make necklaces or bracelets.
When buying this kit, you are not simply limited to making the fingerprint jewellery as per the instructions. It does in fact fully equip you to complete any general piece of PMC work as well as providing you with some great, generic tools which can be used for all manner of jewellery making, (not just PMC). It is only really the spacers, roller, work mat and straw which are suitable to be used only with PMC. All the other tools are general purpose and are ideal for using with sheet metal as well as clay.
This would make an ideal gift for anyone wanting to try jewellery making, but has little to no training. PMC can be moulded like clay whilst giving professional results so is very gratifying to use. But equally, you are also getting some good, multi-purpose items such as the hand-held torch, which will serve you well should you choose to pursue jewellery making in the future. All in all, this is a great kit.
We have several jewellery making kits on our site, which cover a variety of techniques. Such as polishing, beading, soldering, measuring, starter kits etc. See them all by clicking here
Written by Joanna Varney
Joanna has worked in and around the jewellery industry for well over 20 years. She has designed and created her own pieces as a designer maker, as well as working in jewellery retail on a much larger scale, producing designs and NPD for some of the UK's largest high street retailers
The post Jewellery Making Kits – PMC appeared first on The Bench.