Halloween is rapidly approaching once again! There are only a few weeks to go until the 31st,  so now is a great time to start creating/sourcing your own unique Halloween jewellery to get you 'party ready' for the big event.
Our bestselling Sterling Silver Cat Enamel Stud Earrings – (XSS 2135) and New  Sterling Silver Cat & Pearl Design Stud Earrings (XSS 2202)
We have extended our finished jewellery range this year, which now includes some matching items to some of your favourites from previous years. Our Halloween inspired pendants, such as our cute enamel cat and polished silver sugar skull pictured below, now come ready to wear on a silver chain. Ideal items to grab and go if you don't have the time to make something this year. Some of our favourites include the glamourous & sparkling Silver Spider and the Cat & Pearl Design Stud Earrings. Both of which are new this season.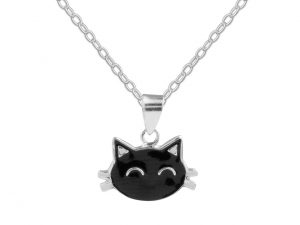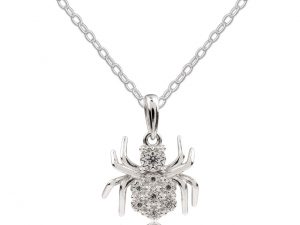 Sterling Silver Sugar Skull Halloween Jewellery Pendant and Chain Set (1VP 003), Sterling Silver Black Cat Halloween Enamel Jewellery Pendant and Chain Set (1VP 008) and Sterling Silver Cubic Zirconia Spider Halloween Jewellery Pendant and Chain Set (1VP 007)
If, on the other hand, you want to make your own Halloween exclusives, we have everything you need to make that idea into a reality.
Beads can form the basis of some great themed accessories and we love these multi-coloured Magnesite skulls in a 16" strand. Also available in plain black, they are very much in the style of the Mexican traditional celebration of Day of the Dead. Something that has become so popular here in the UK in recent years. The symbology of Day of the Dead is strongly focused around the image of the skull, but unlike Halloween it has a much more upbeat, Carnival feel to it; which fully embraces colour, so these multi-colour beads are spot on.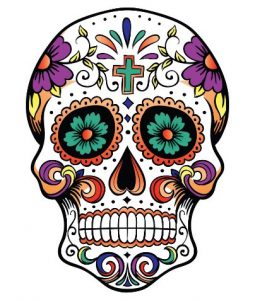 Multi-Colour Magnesite Skull Beads, 12mm, 16″/40cm Strand – 67SPMA04
The beads are drilled top to bottom, so are ideal to be used as earrings or pendants if you want to dismantle the 16" strand once you receive it. Measuring 12mm they are a decent size, so will easily stand alone as a feature or focal point. That's if you want to tone things down and string them with some smaller beads, which might suit some of the smaller members of the family a little better.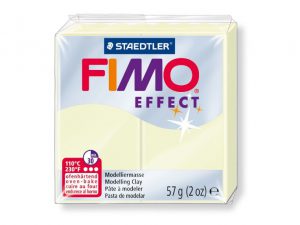 Fimo Effect Nightglow 57g Polymer Clay Block Fimo Colour Reference 04 – (866 035)
If you want to go all out and make your Halloween pieces from scratch, then why not use some of our glow in the dark products to ensure your designs really stand out. Fimo Effect Nightglow is part of Staedtler's extensive Fimo Effects range, which also includes glitter, gemstone, metallic and pastel. For those who are unfamiliar with Fimo, it is a fully moldable polymer clay, which can be baked in a low oven until hard. It can be used to make many different items such as jewellery, models, decorations and so on. This Nightglow version would be ideal for making Halloween ghost decorations to adorn the house or even glowing eyeball beads to embellish a necklace or bracelet!
If slime is more your thing then you might be interested in our new glow powder for epoxy resin. Available in Aquamarine and Green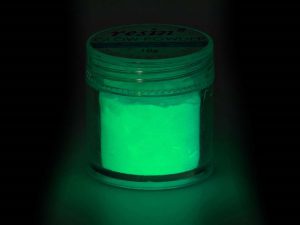 Glow Powder for Epoxy Resin, Green 10g – (860 039J)
This photo luminescent pigment powder works by absorbing UV light during the day, which enables it to emit a lasting glow after dark. This looks absolutely stunning, we think you will agree. Used in conjunction with clear epoxy resin, this glow powder is going to elevate your Halloween designs to another level and will do any would-be ghostbuster (or ghost) proud this year!
All Halloween inspired finished Jewellery and beads are 20% at the moment, so make the most of this offer. This offer is due to end on October 31st, Hallows Eve itself
Written by Joanna Varney
Joanna has worked in and around the jewellery industry for well over 20 years. She has designed and created her own pieces as a designer maker, as well as working in jewellery retail on a much larger scale, producing designs and NPD for some of the UK's largest high street retailers
The post Unique Halloween Ideas appeared first on The Bench.