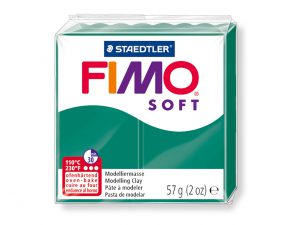 In this blog we will discuss the basics of fimo polymer clay – answering questions like "what is Fimo made of?", "is Fimo clay waterproof?" and ideas for what to do with Fimo clay.
What is Fimo?
Yes – it's a brand of polymer clay. In fact, Fimo was the first brand to produce modelling clay that could be hardened in the oven. Used by beginners and professionals of all ages, Fimo is a popular choice for polymer clay-based arts, crafts and jewellery making.
There are several types of Fimo polymer clay, which include:
Fimo Soft
Fimo Effect
Fimo Professional
Fimo Leather
Fimo Kids
Fimo Air Light – an air-drying clay
What is Fimo made of?
The standard Fimo polymer clays are made of plastic powder (or PVC), plasticiser and additives. For safety and consumer protection, Staedtler has avoided the use of phthalate-based plasticisers in their oven-hardening clays since 2006.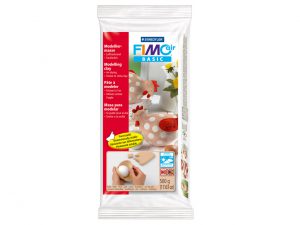 The air-drying clay, Fimo Air Light, contains a natural Kaolin clay, water and additives.
Is Fimo clay toxic?
When baked correctly, polymer clay doesn't release toxic fumes or leave a residue in your oven. But when burnt, it typically releases hydrogen chloride which is colourless and corrosive so can cause irritation and burns. It is always recommended that any polymer clay is not used with food and should not be consumed.
Is Fimo clay waterproof?
Once cured, polymer clay is waterproof and doesn't need to be sealed against moisture. This is because it's oil-based, rather than water-based like air-dry clays are – which makes polymer clay an ideal component in projects like snowglobe making! Although, despite this, it's typically unfit for use in freshwater aquariums.
How to use Fimo polymer clay
There are numerous Fimo tools available to help you use your polymer clay in the most effective way. Suitable for both beginners and professionals, our Fimo tools can be used to shape, cut and finish your clay to help you create a high-quality piece. From the Fimo Magic Roller that helps you to make perfect polymer clay beads, to metal cutters and the Fimo Clay Machine that allows you to mix and blend colours of clay. Learning how to use Fimo polymer clay has never been easier.
For a more in-depth take on how to use Fimo clay, check out our blog.
How to bake Fimo clay
Fimo is cured in an oven that is pre-heated to 100 degrees Celsius – with the exception of Fimo Leather which is hardened at 130 degrees Celsius – and you can do it all from the comfort of your own kitchen! And then there's the Air Light clay – which doesn't need to be baked at all. Simply let it dry out at room temperature and it'll be ready to cut, sand, paint, and more.
Read our blog for more detailed instructions on how to bake Fimo clay.
Wondering what to do with Fimo clay?
There are various art and jewellery pieces that can be made out of Fimo clay. From making polymer clay beads to pendant pieces and sculptures. So whether you're making your own necklaces, sculpting some festive Christmas decorations or having fun with the kids, there's plenty of things to do with Fimo clay. All you need are the right tools, some coloured clay and the creativity to get started!
Where to buy Fimo clay
You don't need to go far to find out where to buy Fimo clay. We offer a range of Fimo polymer clays here at Cooksongold, as well as all the Fimo tools you'll need to bring your jewellery and crafters designs to life! Simply order online and it'll all be delivered to your front door.
The post What Is Fimo Clay? appeared first on The Bench.